WEDNESDAY, 09/29/2021 | 8:00PM EDT
Creative Dialogues




in a




Changing World
Implications of Afghanistan under Taliban Rule
Wednesday September 29th, 2021 at 8:00pm EDT
​
1957 E Street NW, Washington, D.C. Lindner Family Commons (Room 602) and via Zoom
​
Hosted In-person and virtually - the link and optional background materials will be emailed to you after registration
With the withdrawal of American forces from Afghanistan this past summer and the fall of the Afghan government in Kabul, the Taliban have gained control of Kabul and most of the country. On September 7th, the Taliban created what they call an interim government with veterans of the militant group occupying top posts. With the United States withdrawn, Afghanistan's neighbors, including Iran, China, and Pakistan, are left to deal with the consequences or opportunities a Taliban-led government present.
​
In this event, "Creative Dialogues in a Changing World: Implications of Afghanistan under Taliban Rule", we will speak with returning guest Dr. Richard Weitz of the Hudson Institute and Dr. Marvin G. Weinbaum of the Middle East Institute about the interests of Afghanistan's neighbors in the greater region and what the Taliban-led government means for their foreign policy strategy.
​
The Creative Dialogues in a Changing World (CDCW) series lends a transformative discussion on complex modern questions in international affairs through intergenerational dialogue with experts and special guests specializing in a wide array of issues related to five themes: International Security, Global Political Movements, Rising Topics in International Affairs, Global Public Health, and Climate Change. This Foreign Affairs with Future Leaders-inspired series is hosted by the Onero Institute and Delta Phi Epsilon Professional Foreign Service Fraternity at GW. The series will incorporate a mix of virtual, hybrid, and in-person events.
Marvin G. Weinbaum is professor emeritus of political science at the University of Illinois at Urbana-Champaign, and served as analyst for Pakistan and Afghanistan in the U.S. Department of State's Bureau of Intelligence and Research from 1999 to 2003. He is currently director for Afghanistan and Pakistan Studies at The Middle East Institute. At Illinois, Dr. Weinbaum served for fifteen years as the director of the Program in South Asian and Middle Eastern Studies. His research, teaching, and consultancies have focused on the issues of national security, state building, democratization, and political economy in Afghanistan and Pakistan.
He is the author or editor of six books and has written more than 100 journal articles and book chapters. Dr. Weinbaum was awarded Fulbright Research Fellowships for Egypt in 1981–82 and Afghanistan in 1989–90, and was a senior fellow at the United States Institute of Peace in 1996–97. He has been the recipient of research awards from the Social Science Research Council, the Ford Foundation, the American Political Science Association, and other granting agencies.
Richard Weitz is Senior Fellow and Director of the Center for Political-Military Analysis at Hudson Institute. His current research includes regional security developments relating to Europe, Eurasia, and East Asia as well as U.S. foreign and defense policies. Before joining Hudson in 2005, Dr. Weitz worked for shorter terms at the Institute for Foreign Policy Analysis, Center for Strategic and International Studies, Defense Science Board, Harvard University', and other research institutions, and the U.S. Department of Defense, where he received an Award for Excellence from Office of the Secretary of Defense.
Dr. Weitz is a graduate of Harvard University (Ph.D. in Political Science), Oxford University (M.Phil. in Politics), the London School of Economics (M.Sc. in International Relations), and Harvard College (B.A. with Highest Honors in Government), where he was elected to Phi Beta Kappa. He is proficient in Russian, French, and German. Dr. Weitz has authored or edited several books and monographs, published in such journals, and appeared on many broadcast media. He has delivered numerous presentations at conferences, panels, and other events in many countries.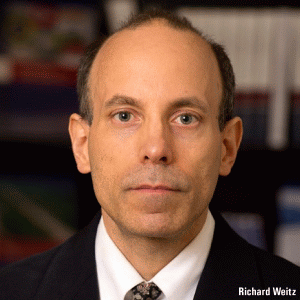 Bill Roggio is a senior fellow at FDD and editor of FDD's Long War Journal, which provides original reporting and analysis of the Global War on Terror from Afghanistan and Pakistan to Syria, Iraq, Yemen, Somalia, North Africa, Iran, and beyond. He is also president of the nonprofit media company Public Multimedia Inc.
​
Bill was embedded with the U.S. Marine Corps, U.S. Army, and Iraqi forces in Iraq between 2005 and 2008, and with the Canadian Army in Afghanistan in 2006. From 1991 to 1997, Bill served as a signalman and infantryman in the U.S. Army and New Jersey National Guard. His articles have been published in The New York Times, The Weekly Standard, The Daily Beast, National Review, and The New York Post, and his work has been in outlets including The New York Times, The Washington Post, The Los Angeles Times, CNN, Foreign Policy, and Bloomberg.
Laurent Kleinheinz is a fourth-year student at the George Washington University, studying International Affairs with a minor in Arabic. He is from San Francisco and has an interest in counter-insurgency theory and Afghan tribal politics. He has previously moderated three events with the Onero Institute, one focusing on Afghanistan's prospects for peace, another on journalism in Afghanistan, and a third on Oman's unique foreign policy.